An Indian lawmaker has called for "surgical strikes on China" after Beijing released a new map suggesting ownership of territory also claimed by New Delhi.
The new "standard map," released on Monday by Beijing's Ministry of Natural Resources, includes the territories of Arunachal Pradesh and Aksai Chin as part of China, along with Taiwan. It also indicates Chinese sovereignty over most of the South China Sea, which is contested by a number of neighboring countries.
China and India dispute sovereignty over a number of regions along their shared border, which has sparked violent incidents over the past several years. Twenty Indian border guards and at least four Chinese soldiers were killed in June 2020 during a hand-to-hand melee at Galwan Valley, while several troops were injured when the two sides clashed in the Tawang region of Arunachal Pradesh last December.
After the map was released, Sanjay Raut, who leads the Marathi regionalist Shiv Sena (UBT) party and represents them in parliament, demanded action during a press briefing with journalists.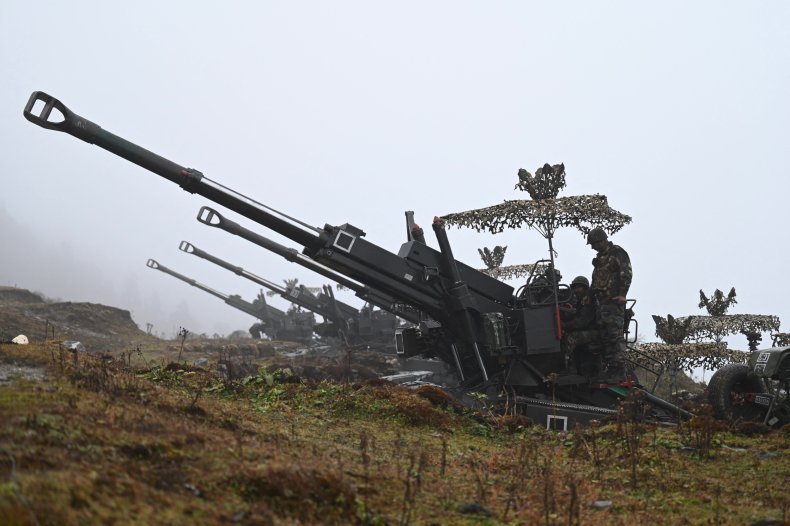 "[Narendra Modi] recently attended the BRICS summit and greeted Xi Jinping," he said. "After that, comes the map of China. Rahul Gandhi's claim is true that China has entered the Pangong Valley in Ladakh. China tries to enter Arunachal. If you (the Indian government) have courage then do a surgical strike on China."
Gandhi leads the Indian National Congress, the main opposition to Prime Minister Modi's Hindu nationalist Bharatiya Janata Party (BJP). Speaking earlier this month, Gandhi claimed the Chinese Army had "taken over" Indian territory in Ladakh, contradicting Modi's claim that "not an inch" of Indian land had been taken over by Beijing.
On Thursday, Modi held a rare face-to-face meeting with Chinese premier Xi Jinping during the BRICS summit in South Africa, where the two men agreed to "intensify efforts" to reduce tensions along their contested border. In a statement released the following day the Chinese Foreign Ministry said Modi and Xi "had a candid and in-depth exchange of views on current China-India relations."
"The two sides should bear in mind the overall interests of their bilateral relations and handle properly the border issue so as to jointly safeguard peace and tranquility in the border region," the statement said.
In June, Canadian publication Global News published a video showing a Chinese warship nearly colliding with a United States Navy destroyer in the Taiwan Strait, with the Americans claiming the warship "executed maneuvers in an unsafe manner."
And in May, the U.S. accused a Chinese J-16 fighter aircraft of performing an "unnecessarily aggressive maneuver" on an American military aircraft over the South China Sea.
Source : News Week