China-bound investment plunged 40.3 percent from 2018 to last year, while investment in ASEAN markets grew 40.9 percent, the economics ministry said
Taiwan's investment in ASEAN markets in the first half of this year surpassed the volume bound for China, as local firms continued to shift manufacturing bases away from the world's second-largest economy at clients' urging to avoid US-China trade frictions, the Ministry of Economic Affairs said yesterday.
Approved investments in Southeast Asia reached US$2 billion in the first six months of this year, accounting for 18.1 percent and overtaking China as the No. 1 destination at 17.6 percent, the ministry said in a report.
It attributed the changes to a global supply chain realignment and rising Chinese labor costs.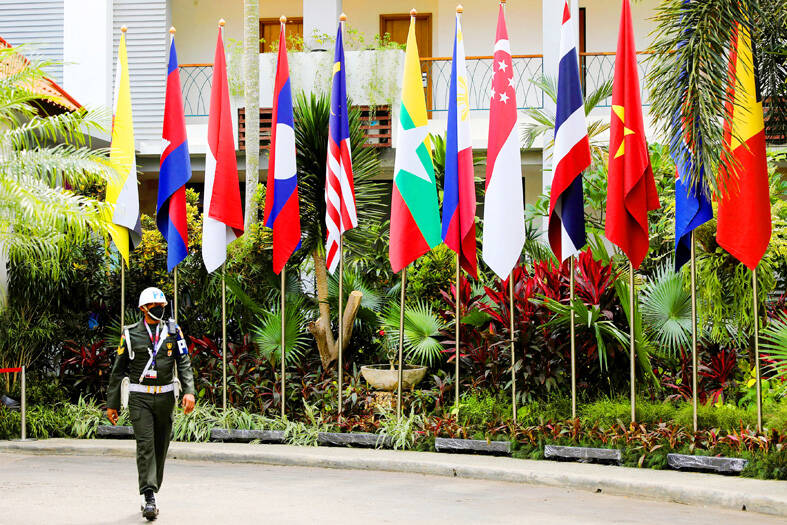 A soldier walks past the flags of countries participating in an ASEAN summit in Labuan Bajo, Indonesia, on May 8.
Photo: Reuters
The phenomenon became evident in 2018 when China-bound investment shrank by 50 percent to the lowest level since 2010 and plunged another 50 percent in 2019, the ministry said.
From 2018 to last year, investment destined for China declined 40.3 percent from the period of 2013 to 2017.
At the same time, investment bound for ASEAN markets grew 40.9 percent, the report said.
The bulk of investment in ASEAN was in manufacturing facilities, at 38.2 percent, followed by financial and insurance service providers (23.5 percent), and wholesale and retail operations (22.3 percent), it said.
By contrast, China-bound investment was focused on manufacturing facilities, it added.
Major local banks have set up branches in Vietnam, Thailand, Cambodia and elsewhere in Southeast Asia to better serve their Taiwanese clients and take advantage of fast-growing economies in the region.
The government has also encouraged investment in ASEAN markets under President Tsai Ing-wen's (蔡英文) New Southbound Policy to help local companies diversify investment risks.
For the past decade, tech companies have increased their investment in ASEAN markets, whereas previously it was non-tech firms focused on the region, the ministry said.
Today, electronic component suppliers make up for 27.6 percent, followed by vendors of computers and optical devices at 12.2 percent, textile makers at 8.9 percent and base metal product suppliers at 6.2 percent, it said.
In the previous four years, base metal product suppliers accounted for 46.2 percent of investment in the region, far outweighing electronics companies at 24.2 percent, it said.
India emerged as another big beneficiary of the global supply chain realignment, with outbound investment from Taiwan soaring more than threefold after the signing of a bilateral trade agreement in 2018, the ministry said.
Investment in India this year might challenge the five-year average of US$100 million, it said, as India's vast population has received increased attention from global technology titans and their suppliers.
Source : Taipe Times