On October 5, 2023, Wang Yi, member of the Political Bureau of the CPC Central Committee and director of the Foreign Affairs Office of the CPC Central Committee, met with foreign guests attending the 3rd China-Tibet "Rim of the Himalayas" International Cooperation Forum in Linzhi, Tibet.
Wang Yi said that the "Rim of the Himalayas" international cooperation forum is an important platform for Tibet to strengthen mutual understanding with other countries, and is also an important window for Tibet to open up and communicate with the world. The theme of this forum is "Harmonious coexistence between man and nature and sharing the results of development cooperation", which embodies Xi Jinping's ecological civilization thoughts and is also a concrete action taken in response to President Xi Jinping's advocacy of a community of life between man and nature and a community of life on earth.
Wang Yi introduced the development and changes in Tibet that have achieved "one step across a thousand years" under the leadership of the Communist Party of China, and emphasized that under the guidance of Xi Jinping Thought on Socialism with Chinese Characteristics for a New Era, Tibet has achieved all-round progress and historic achievements in various undertakings. China welcomes friends from all countries to come to Tibet to witness with their own eyes the great achievements of Tibet's economic and social development, the happy lives of people of all ethnic groups, and the true situation that Tibetan culture has been perfectly inherited and protected. Facts will prove that the Tibet-related lies fabricated by some Western forces out of ideological prejudice are completely untenable and will collapse in the face of facts.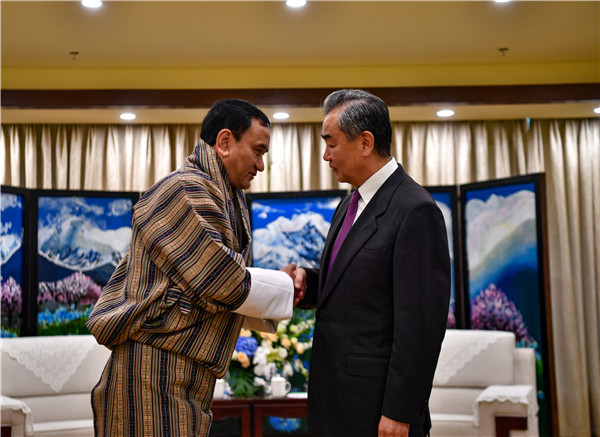 Foreign guests said that they came to Tibet to attend forum activities and witnessed Tibet's beautiful ecology, unique culture, economic development, and people's happiness. They looked forward to making good use of the platform of the forum to further strengthen exchanges and cooperation with Tibet and China, give full play to their respective advantages, and jointly respond Challenges such as climate change, protect the ecological environment, and achieve sustainable development.
Source : mfa.gov.cn